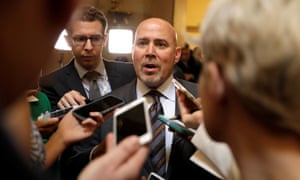 Members of Congress who voted for the controversial plan will be met by activists on the left, who are attempting to save the Affordable Care Act
As House Republicans return to their districts after approving a controversial plan to dramatically reshape the nation's healthcare system, activists on the left are mobilizing at town halls in an effort to save the Affordable Care Act, the 2010 law that extended coverage to millions of Americans.
At a meeting in Lewiston on Friday, a woman challenged congressman Raúl Labrador, an Idaho Republican and a member the arch-conservative House Freedom Caucus, over his support for the Republican healthcare bill.
"You are mandating people on Medicaid to accept dying," she said.
"That line is so indefensible," Labrador replied. "Nobody dies because they don't have access to healthcare." (In a later statement, the Idaho conservative conceded that his comment "wasn't ver elegant" and argued that it had been taken out of context.)
The activism drew more testy exchanges in upstate New York, where congressman Tom Reed defended his decision to support the Republican healthcare plan against boos and jeers from angry crowds at his three town halls on Saturday.
At a firehouse in Busti, New York, a man told Reed that he had recently donated a kidney, which he said is considered a pre-existing condition.
"Now that I have a pre-existing condition, my cost of health care could go up significantly or I could lose health care," the man said, according to ABC News.
With the House on recess until 16 May, activists are planing similarly furious receptions for the handful of Republican lawmakers who are scheduled to hold town halls in their home districts.
Activists are specifically targeting congressional Republicans who supported the unpopular healthcare plan. Of the 217 Republicans who voted for the Republican healthcare plan, just 14 will hold town halls during the recess, according to the scheduled events compiled by the TownHallProject.com.
While it is hard to predict which ones will draw fireworks, a few seem likely prospects. Rod Blum, an Iowa Republican whose district voted for Obama twice before tipping for Trump last year, will hold a series of three town halls this week. Congressman Jeff Denham, who was one of 14 California Republicans who voted for the GOP healthcare plan, will hold a coffeehouse meeting on Tuesday.
Perhaps no town hall will be watched as closely as the one with Representative congressman Tom MacArthur, a moderate Republican who helped craft a compromise amendment that ensured support from conservatives.
The New Jersey lawmaker represents a district that voted for Obama twice and only narrowly swung for Trump in 2016. MacArthur told reporters that he expects to encounter angry constituents at his town hall but will "relish" the opportunity to correct what he views are misconceptions about what the healthcare plan would do.
MacArthur's provision, which was crucial to passing the bill, was hammered out behind closed doors. No public hearings were held on the bill since the addition of the provision, which was made public hours before the House approved it.
The nonpartisan Congressional Budget Office is due to analyze how much it would cost and how many people might lose coverage if the plan takes effect, perhaps as early as this week. The agency's analysis of the initial proposal found that 24 million people would lose health coverage over the next decade.
And with the bill heading to the Senate, activists hope that the Republicans taking it up next see that there is a political cost to supporting a measure that could strip healthcare from millions.
Since the inauguration of Donald Trump, Republican lawmakers have routinely faced the wave of backlash from the so-called "resistance", a coalition of liberal groups and activists opposed to the president's agenda. For months, protesters – many of whom are first-time political activists – have packed Republican town halls, rallied outside GOP offices and filled lawmakers' voice messages in an urgent attempt to save the Affordable Care Act.
The liberal resistance has vowed to hold Republicans who supported the healthcare bill to account by voting them out of office in the 2018 midterms. But Republicans have scoffed at that notion, arguing that they voted to fulfill a seven-year campaign promise to repeal and replace Obamacare.
Mick Mulvaney, director of the White House Office of Management and Budget, said Republicans have no reason to duck constituents – rather that they should welcome the opportunity to engage with constituents after delivering on a seven-year campaign promise.
"I'd be ecstatic about going back and saying, 'Look, here is what we did. Here is the process. Was it ugly? Yeah. But did we get it done? Did we follow through on a promise to repeal in the House? Yes,'" Mulvaney, a former congressman from South Carolina, told CBS' Face the Nation. "No, I think it would be something that Republicans should run to, not run away from."