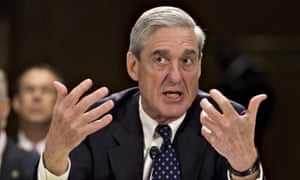 DoJ appoints Mueller, 72, as special counsel to head federal investigation
Mueller to also investigate Russian intervention in the election generally
The Department of Justice has appointed former FBI director Robert Mueller as special counsel to investigate alleged ties between the 2016 presidential campaign of Donald Trump and Russian operatives. Mueller will also investigate Russian intervention in the election generally.
Mueller, 72, was appointed FBI director by George W Bush and served 12 years, including for the majority of Barack Obama's presidency. He said in a statement: "I accept this responsibility and will discharge it to the best of my ability."
Deputy attorney general Rod Rosenstein made the decision to appoint Mueller. The Trump administration presented a letter in which Rosenstein found fault with the performance of former FBI director James Comey as a central factor in Comey's firing last week.
In an order announcing Mueller's appointment, Rosenstein explained he had taken the decision "to ensure a full and thorough investigation of the Russian government's efforts to interfere in the 2016 presidential election," including "any links and/or coordination between the Russian government and individuals associated with the campaign of President Donald Trump."
"My decision is not a finding that crimes have been committed or that any prosecution is warranted," Rosenstein wrote in a separate letter. "I have made no such determination. What I have determined is that based upon the unique circumstances, the public interest requires me to place this investigation under the authority of a person who exercises a degree of independence from the normal chain of command."
In a statement released after Mueller's appointment was announced, Trump said: "As I have stated many times, a thorough investigation will confirm what we already know – there was no collusion between my campaign and any foreign entity. I look forward to this matter concluding quickly. In the meantime, I will never stop fighting for the people and the issues that matter most to the future of our country."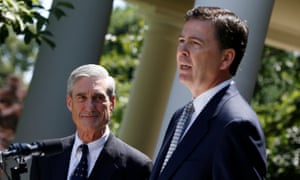 The White House was not aware of Rosenstein's decision to appoint Mueller until after the order was signed, according to a justice department official. The news had not appeared to have been shared on Capitol Hill either, with the House intelligence committee saying it had not been informed.
As special counsel, Mueller will command broad powers, including the power to subpoena documents and prosecute any crimes, independent of Congress. Calls on Capitol Hill for a special prosecutor in the investigation have percolated for months, but spiked after the firing of Comey, who was leading an FBI investigation into the matter. The independence of the investigation fell into question after the firing.
"A special counsel is very much needed in this situation," Republican senator Susan Collins said in a statement, calling Mueller "exactly the right kind of individual for this job."
"Good move," senator Tim Kaine, the former vice-presidential candidate, wrote on Twitter. "Now let's get some answers." Fellow Democrats Chuck Schumer, the Senate minority leader, and Nancy Pelosi, the House minority leader, echoed the sentiment, with Pelosi calling Mueller "a respected public servant of the highest integrity".
Trump has vehemently opposed the appointment of a special counsel, calling the investigation a waste of taxpayer money. White House press representatives were criticized for dismissing the need for a special prosecutor – a move seen as potentially encroaching on the justice department's terrain.
The top officials from both parties on the House oversight and government reform committee, which had scheduled a hearing for next week at which Comey was invited to testify, praised the move.
"Mueller is a great selection," committee chairman Jason Chaffetz, a Republican, tweeted. "Impeccable credentials. Should be widely accepted."
Ranking member Elijah Cummings said Rosenstein had "made a solid choice in Mr Mueller, and I commend him for putting our country and justice system first. I urge Mr Mueller to follow the facts wherever they may lead – with integrity and independence."
A spokesperson for former Trump campaign chairman Paul Manafort, whose ties in Ukraine and Russia have come under scrutiny, declined to comment to the Guardian on the Mueller appointment.
Special counsel is a position that exists under a statute that allows the attorney general or a deputy, if the attorney general is recused, to mount an independent investigation. This particular provision has been invoked only before, in the Bill Clinton administration, when former Senator John Danforth was to investigate the Branch Davidian siege outside Waco, Texas.
The position is different from an independent counsel, the role in which Ken Starr investigated Bill Clinton throughout the 1990s. The law provided for that position expired in 1999.
After his time at the FBI, Mueller worked for the Washington-based private law firm of WilmerHale, a position he has resigned.