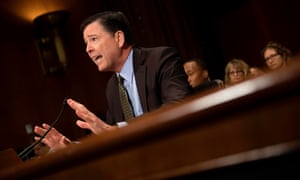 FBI director said he had choice to 'speak or conceal' about email discovery
Clinton suggested Comey's intervention had key impact on election result
FBI director James Comey said on Wednesday that he thought concealing the discovery of new Hillary Clinton emails before last year's election would have been "catastrophic".
Giving evidence to a hearing of the Senate judiciary committee on oversight of the FBI, Comey defended his decision to inform Congress that new emails had been discovered that could have a bearing on an investigation into Clinton's use of a private email server.
He said he had had to make a choice between "speak or conceal": to speak would have been "really bad", he said; to conceal would have been "catastrophic". So he choose to speak out.
In his most extensive comments yet about the email case, the FBI director said it made him "mildly nauseous" to think his organization might have had an impact on the result of the 2016 election, as Clinton has suggested as recently as Tuesday. But he insisted that he would do the same again if faced the same set of circumstances.
Comey was peppered with questions about leaks about FBI investigations, and repeatedly stated he could neither confirm or deny.
He made one exception, however. Asked about contacts between FBI staff and Rudy Giuliani, a former New York mayor and current Trump aide, he said: "I don't know yet … but it's a matter I'm very, very interested in."
The FBI director confirmed there was an ongoing investigation into possible collusion between associates of Donald Trump and Moscow, and agreed when asked whether it was "fair to say that Russia is still involved in American politics".
Comey was asked to explain the difference between how the bureau handled its investigation into the Trump campaign and an investigation into Clinton's use of a private email server.
Comey said he had made the discovery of the emails public on 28 October, just 11 days before last year's election, because he thought FBI agents might have found emails that could help explain why Clinton had used a private server. In the end, he said, they did not.
He described in detail the process of discovering the emails on the laptop of Anthony Weiner, the estranged husband of top Clinton aide Huma Abedin.
He said that "somehow" Clinton's emails "were being forwarded to Anthony Weiner, including classified information, by her assistant Huma Abedin". Weiner was being investigated over an alleged online relationship with a teenage girl.
Republican Chuck Grassley, the chairman of the committee, said that the public's faith in the bureau had been tested lately.
Grassley is pressing for answers about the FBI's investigation into potential coordination between the Trump campaign and Russia.
Comey disclosed the existence of that investigation when he testified at a congressional hearing in March.
Comey also mounted a strong defence of section 702 of the Fisa Amendments Act of 2008, which allows the NSA to use the Prism program to collect internet communications. And he claimed half the FBI's work was now affected by encryption on user's phones or other devices.