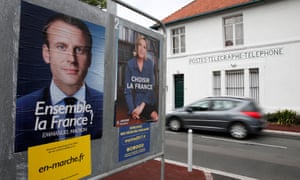 En Marche! movement says posting of massive email leak online 'clearly amounts to democratic destabilisation as was seen in the US'
The campaign of the French presidential frontrunner, Emmanuel Macron, has said it has been the target of a "massive and coordinated" hacking attack after tens of thousands of internal emails and other documents were released online.
Less than 48 hours before polling day, around nine gigabytes of data was posted by a user called EMLEAKS to the document-sharing site Pastebin that allows anonymous posting. It was not immediately clear who was responsible.
Macron's political movement, En Marche!, confirmed the hack, saying it had been the "victim of a massive and coordinated hack this evening which has given rise to the diffusion on social media of various internal information".
The statement added that the data consisted of "diverse documents such as emails, accounting documents and contracts" hacked several weeks ago from the personal and professional accounts of some of the movement's staffers.
"Coming in the final hours of the campaign, this operation clearly amounts to democratic destabilisation as was seen in the United States," it said, adding that En Marche! had "consistently been targeted by such initiatives" through the campaign.
It said "many false documents" had been added to genuine stolen documents on social media "in order to sow doubt and disinformation" as part of an operation "clearly intended to harm the movement".
The authentic documents were all lawful, however, and "reflected the normal functioning of an election campaign", the statement said. Their publication "does not alarm us as to the prospect of any questions being raised about their legality".
The WikiLeaks website posted a Twitter link to the cache of documents, saying it "contains many tens of thousands (of) emails, photos, attachments up to April 24, 2017". It indicated it was not responsible for the leak itself.
A French interior ministry official declined to comment, citing French rules barring any remarks liable to influence an election. The rules took effect at midnight local time on Friday (2300 GMT) and will remain in place until all polling stations have closed at 8pm on Sunday.
Five new opinion polls published on Friday forecast that Macron would win the election with a share of 62-63%, comfortably defeating his rival, the far-right leader Marine Le Pen, in France's most turbulent and potentially significant presidential race in decades.
A top official from Le Pen's Front National, Florian Philippot, asked on Twitter whether the leaked documents "would reveal anything that investigative journalism had kept quiet".
Macron's team has previously blamed Russian interests for repeated attempts to hack its systems during the campaign, saying on 26 April it had been the target of unsuccessful attempts to steal email credentials since January. The Kremlin has denied any involvement.
During a visit by Le Pen to Moscow in March, Vladimir Putin said Russia had no intention of meddling in the French presidential elections, but analysts said the meeting implicitly signaled support for the Front National.
Trend Micro, a cybersecurity firm, said last month a hacking group, believed to be part of a Russian intelligence unit, was targeting Macron and his campaign team, adding that it appeared to be the same Fancy Bear group behind the hacking of Democratic campaign officials before last year's US presidential election.