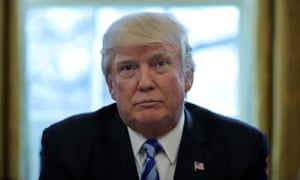 Trump initially blamed Democrats after his attempt to repeal and replace Obamacare crumbled, but has since shifted aim to the divided Republican party
Donald Trump has issued an ultimatum to the hard right of the Republican party, warning them to "get on the team" or face consequences at the ballot box.
The US president tweeted on Thursday: "The Freedom Caucus will hurt the entire Republican agenda if they don't get on the team, & fast. We must fight them, & Dems, in 2018!"
In a disastrous setback to his agenda, Trump's bid to repeal and replace Barack Obama's signature healthcare law crumbled last week after he failed to convince a number of House members, including most of the Freedom Caucus, to support it.
Trump initially blamed Democrats for not backing the new bill, but he has since shifted his focus to take swipes at the Freedom Caucus. His tweet carried the implied threat that he will support challengers to the conservative rebels in Republican primaries.
Ousting Freedom Caucus members would be far from straightforward even in Trump strongholds, however. In Kentucky, North Carolina, Tennessee and Iowa, Republicans who blocked the healthcare legislation have won praise from constituents for stopping what many saw as a flawed plan, according to an Associated Press report.
There has also been speculation that the president, a former Democrat of uncertain ideology, might seek to work with some Democrats on healthcare, his planned $1tn infrastructure programme, and other legislation.
At a White House reception for senators and their spouses this week, attended by some Democrats including the minority leader, Chuck Schumer, Trump promised: "We're going to be doing a great job. But hopefully it will start being bipartisan, because everybody really wants the same thing. We want greatness for this country that we love."
But the House speaker, Paul Ryan, the most senior Republican on Capitol Hill, spoke out against the prospect of healthcare cooperation on Thursday. He told the CBS This Morning show: "If we don't do this, then he'll just go work with Democrats to try and change Obamacare. And that's not, that's hardly a conservative thing. I don't want that to happen."
Ryan was criticised for this stance by Senator Bob Corker a Republican from Tennessee, who tweeted: "We have come a long way in our country when the speaker of one party urges a president NOT to work with the other party to solve a problem."
The speaker then responded at a press conference on Capitol Hill: "The Democrats aren't for repealing Obamacare. We are. We work with Democrats all the time …. but I don't think it's a stretch of the mind to suggest that the Democrats disagree with us about repealing Obamacare.
"So if we're going to do what we said we would do and repeal and replace Obamacare, something tells me the Democrats are not going to help us."
Ryan insisted that about 90% of House Republicans supported the failed healthcare bill and 10% did not. "What I am encouraging members to do is keep talking to one another until we can pass this bill," he said. "[Trump] is expressing his frustration. We all know he does that in various forms, including Twitter."
But bitter recriminations in the Republican party show no sign of easing. For seven years they promised to repeal and replace Obamacare, but the bill now hangs in limbo as they move on to other issues like a tax overhaul.
"This is too big of an issue to not get right," Ryan said, explaining that he would not impose an artificial deadline to "save" the healthcare system.
On Wednesday senior officials from the White House held talks with two dozen leaders from conservative groups. The New York Times reported that the meeting included "a candid, polite airing of complaints that they have been largely left out of the loop on major administration decision-making, according to people who attended".
Meanwhile, Trump intensified his war on the media with another tweet on Thursday. "The failing @nytimes has disgraced the media world," he posted. "Gotten me wrong for two solid years. Change libel laws?" He added a link to a New York Post article attacking the Times, a link the president also tweeted out two days ago.